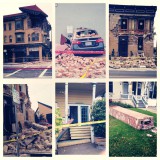 If you want to learn more about the  Napa Valley Community Disaster Relief Fund, which is managed by Napa Valley Community Foundation and was created with a $10 million lead gift from Napa Valley Vintners following the 2014 Napa Earthquake, visit the links below.
To read our announcement from October 31st about changes to support programs based on the arrival of Federal Individual Assistance dollars, click here.
To read the press release about the first round of grants, click here.