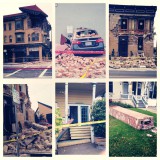 The Napa Valley Community Disaster Relief Fund is managed by Napa Valley Community Foundation and was created with a $10 million lead gift from Napa Valley Vintners following the 2014 Napa Earthquake. The Fund will provide assistance to Napa County families, nonprofits and businesses impacted by the recent earthquake.
For more information on grants and grant eligibility guidelines, click here.
If you'd like to make a donation to the Fund, please click here.
To read the press release about the first round of grants, click here.